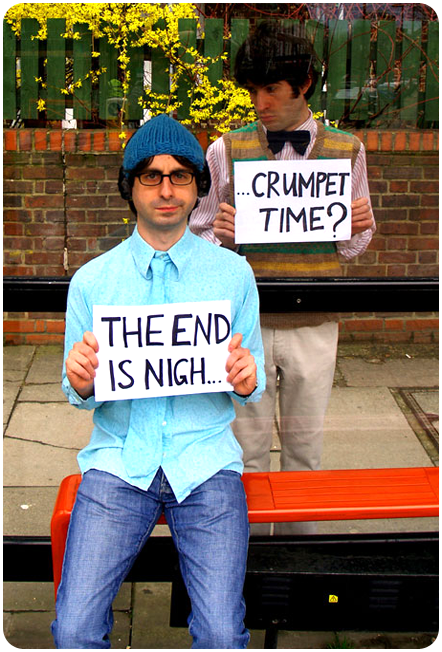 Gloom for hire

Contrary to what you may think, Len and Cliff can throw a right old knees up.

Weddings, birthdays, Bar Mitzvahs, divorces, even wakes... you name it, our dynamic duo do it!

If you are hosting a corporate party or after-party, Leonard and Cliff will come down and give you a bash like no other. Hey, if you want we can even play happy tunes all night... as long as we get fed prawn sandwiches!

Parties that Cliff has organised in the past (while Leonard was in his bedroom sulking) include ones for Festival Republic, EMI, Peugeot, Olympus cameras and Rhone-Poulenc. Rest assured you are in good hands with the woolly-hatted wonder.

Other happy customers include the Royal Shakespeare Company, Curtis Brown talent agency and a wedding or two (misery loves company!).

We've also performed at lovely festivals like Glastonbury, Bestival, Latitude, Green Man, Secret Garden Party and The Camden Crawl and the Suede aftershow party at their sellout O2 show.
We can provide anything from DJ's and performers to food, bouncy castles, the lot. Or we could just come round and play sad tunes on your record player in the comfort of your own bedroom.

For more info please email us here and a give number we can call.